Alex Wenger, Max-Gerd Retzlaff:
The Invisible Tree
Zum dritten Mal in Folge nehmen Alex Wenger und ich an der Weihnachtsbaumausstellung der Staatlichen Hochschule für Gestaltung Karlsruhe teil:
The Invisible Tree
— shy but photogenic —
Please take a picture!
Alex Wenger & Max-Gerd Retzlaff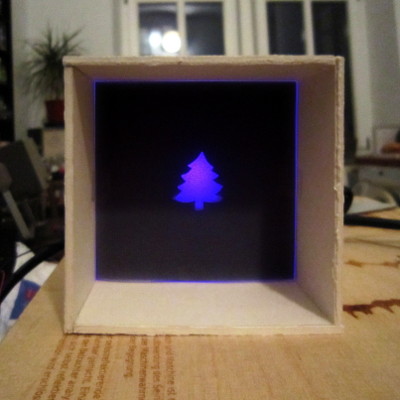 WEB: tannenbaum.matroid.org
FEEDBACK: tannenbaum@matroid.org
Ein unscheinbarer kleiner Kasten. Miit dem bloßen Auge ist nichts zu sehen. Erst im Blick durch eine Kamera (oder auch ein Handy) erscheint auf dem schwarzem Karton ein lila glimmender Baum.


Gemeinsame, frühere Projekte: »uoısuǝɯıp ɹǝɥʇo«, Tannenbaum braucht Zuwendung, LED Cube Modeller, Paraflows edition, and Hacking OpenGL (in Lisp), LED Cube Modeller, 22C3 Edition, LED-Cube (Entropia-Wiki), 3d Baby Cube (Weblog von Alex).