GPN8-Plakat fertig! \o/
June 17, 2009,
Typography
Last edited on June 17, 2009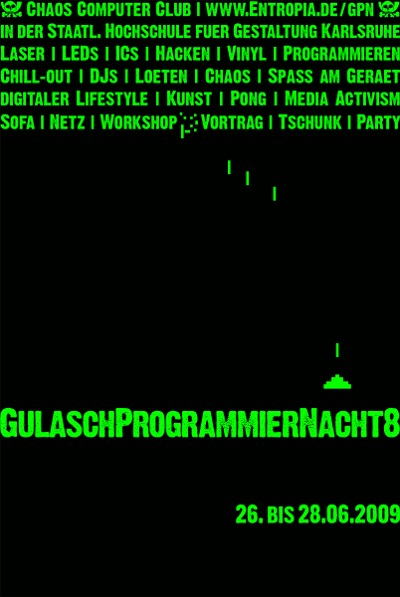 Yeah!
Ein Web-PDF des Plakates gibt es auch: GPN8-Space-Invader-Plakat-final.pdf. (Nicht für den Ausdruck auf üblichen CMYK-Druckern geeignet.)
Der Druck ist schwarz auf grünem Neonpapier erfolgt, was ziemlich fett aussieht. (Dank für die Hilfe an Flowhase!) Actionshots folgen! :-)
Die Poster haben nun gedruckt und beschnitten eine Größe von etwa 56,8 cm x 83,3 cm, was einem Seitenverhältnis von 1,467 entspricht. Nicht ganz das gewollte Verhältnis 1,492 bei Kinoplakatgröße von 61 x 91 cm, aber näher daran als an dem etwas uneleganten √2-Verhältnis (~1,414) der DIN-Papierformate.
Flyer, Tassen, T-Shirts und Namensschilder gibt es ebenfalls, beziehungsweise sind in der Herstellung. Auch die GPN8-Webseite hat Dank Einsatz von Neingeist und mir ein entsprechendes Design inklusive grüner Retrokarte erhalten.
Ich hoffe, es gefällt.
Design by Max-Gerd Retzlaff <m.retzlaff@gmx.net>, 2009.
Space Invaders (including artwork) designed by Tomohiro Nishikado, released 1978.
Font "Dirty Headline" (Freeware) by S. John Ross / Cumberland Fontworks, http://www222.pair.com/sjohn/fonts.htm.
Thank you to both of you!