LED Cube Modeller, Paraflows edition, and
Hacking OpenGL (in Lisp)
October 13, 2006,
Lisp
Last edited on October 13, 2006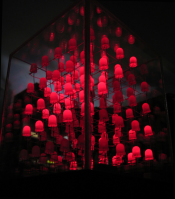 Completely unexpected about three month ago Alex and I were asked to come for a week, from 9.-16.9.2006, to Vienna and take part in the Paraflows convention. We should display our LED Cube and its software at the Blinkennight in the rooms of the Metalab. What a nice surprise!
For the display Alex has made a nice case of acrylic glass with a wooden base which contains the LED Cube, and I spend a good week improving my LED Cube Modeller, a simulator of the physical device that lets one create animations for the cube. Well, I've had successfully incorporated all features into the modeller that I wanted it to have for the Paraflows convention but there's always more to add and improve, and I've spend quite some time hacking on it after Vienna. But finally I'm happy to release the Paraflows edition of the LED Cube Modeller:
Download and Starting the Modeller
You can download the binary release for Linux x86/ia32 and its source code. There's also a rigorously maintained changelog file. (There may be newer versions of those files, just look in the release directory for the files cube-modeller-revXXX-ia32-binary.tar.bz2, cube-modeller-revXXX-source-code.tar.bz2, or cube-modeller-revXXX-CHANGELOG.txt where XXX is the highest number.)
The installation should be as simple as extracting the file cube-modeller-revXXX-ia32-binary.tar.bz2 and executing the start script:
tar xvfj cube-modeller-rev119-ia32-binary.tar.bz
cube-modeller/cube-modeller.sh
(The curious one will notice that there are a couple of command line options, that will be displayed when starting the modeller with cube-modeller/cube-modeller.sh --help, but most probably you won't need them.)
One of the many improvements is a much nicer display and a tidied user interface, the application now looks like this: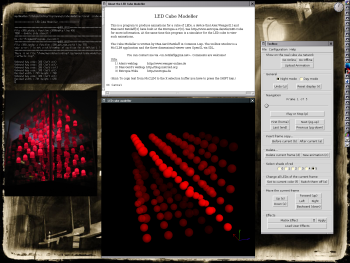 New Features
Apart from many small improvements and bux fixes — quite a bunch actually — there are some major improvements that I'll describe in the rest of this entry:
(By the way, I bet this article looks much better in my weblog than in a planet or an RSS reader, so you might prefer to read it there.)
Comments, comments, comments
Okay, that's enough for now. As with the last release I would be glad if you had a try at the program. Even more, if you uploaded some animations or sent me a comment (via email) about the whole thing!
Of course, you are also invited to our club to have a look at the real thing. :-)

(See also LED Cube Modeller, 22C3 Edition.)